Frozen Pizzas
---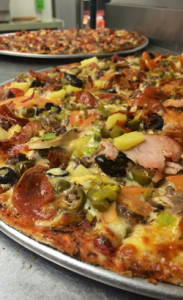 Our freshly frozen take 'n bake pizza delivered straight from your oven.
Have a delicious Tilley's Pizza House pizza, anytime. Give us a call at least 24 hours in advance and we will make and freeze your made to order pizzas. You can enjoy the crispy crust and homemade sauce with the fresh ingredients of your choice anytime you want. (Charge per topping will apply. Limit of 4 toppings per frozen pizza.)
Great for parties or to have on hand for those spur-of-the-moment get togethers.
FROZEN TILLEY'S PIZZA YOU CAN BAKE AT HOME
The following are in stock ready to go
CHEESE ONLY
$    5.50
---
CHEESE AND SAUSAGE
$    5.50
---
CHEESE AND GROUND BEEF
$    5.50
---
CHEESE AND PEPPERONI
$    5.50
---
CHEESE AND MUSHROOM
$    5.50
---
6PACK – MIX AND MATCH
$   27.50
---
FROZEN PIZZAS MADE TO ORDER – LIMIT FOUR TOPPINGS PER PIZZA
24 HOUR ADVANCE NOTICE NECESSARY FOR CUSTOM ORDERS

EXTRA CHARGE WILL APPLY FOR EACH ADDITIONAL TOPPING